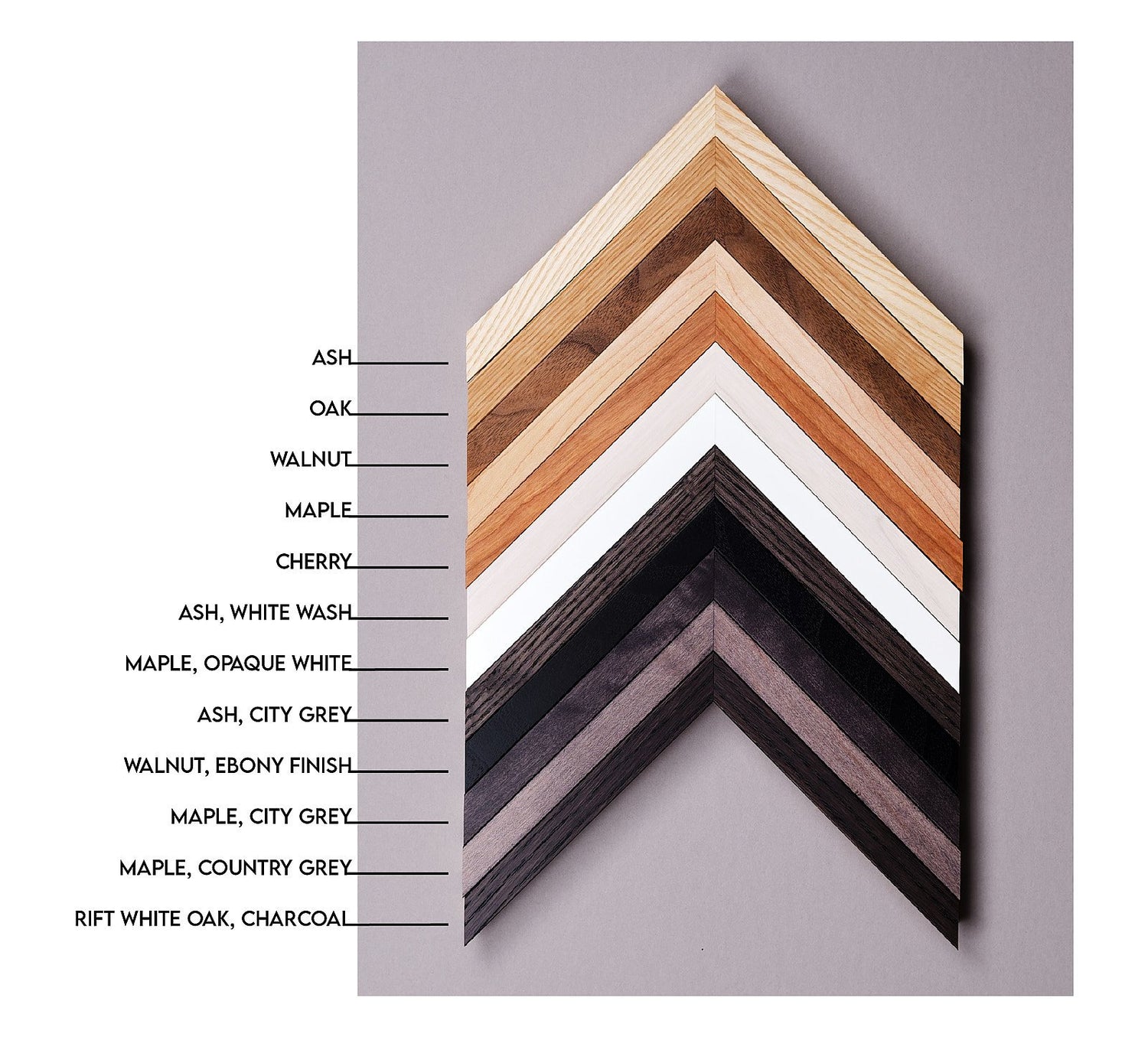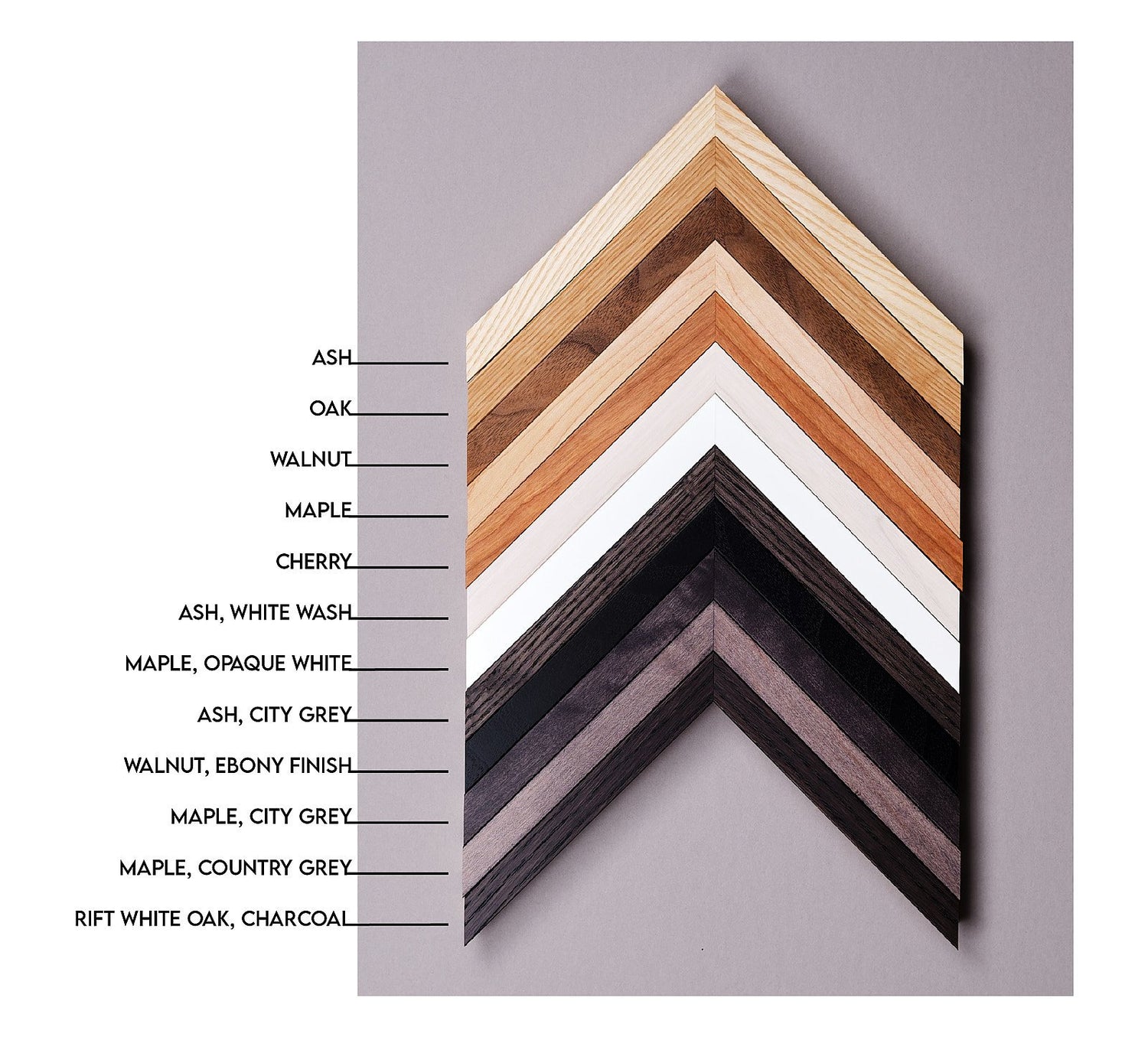 Custom Made with Sustainable North American Hardwood
Our frames are made from sustainably harvested North American domestic hardwoods. We've established a partnership with Picture Woods, out of Boulder, CO. Picture Woods is a 40-year-old family-run company that meets the highest standards of quality, beauty, and environmental stewardship, which also means there are no nasty chemicals that have been inducted into your wood for treatment. All frames are custom-made starting with picking out the lumber to milling, shaping, and sanding. Frames are made in-house by Picture Woods and hand-delivered to us where we hand-finish the wood and frame each art piece.
Highest Quality
When Picture Woods first started their framing business, they were making custom mouldings, one frame at a time, on a small table saw and shaper. They augmented that with moulding that was milled for them by an outside supplier, which they would then sort in-house, hand sand, and hand finish. They quickly discovered that the only way they could make the best hardwood moulding was to control the quality of each step. By the end of their first year, they had brought all aspects of crafting into their shop, including selecting each board of lumber, grinding our own moulder knives, milling, sanding, hand finishing, mitering, and wrapping.
Throughout the years, they have built their reputation by crafting hardwood moulding that combines superb finishes, precise dimensions, nearly warp-free lengths, and impeccably mitered chops. All of these factors have made Picture Woods elegant mouldings a staple of walls all over the country.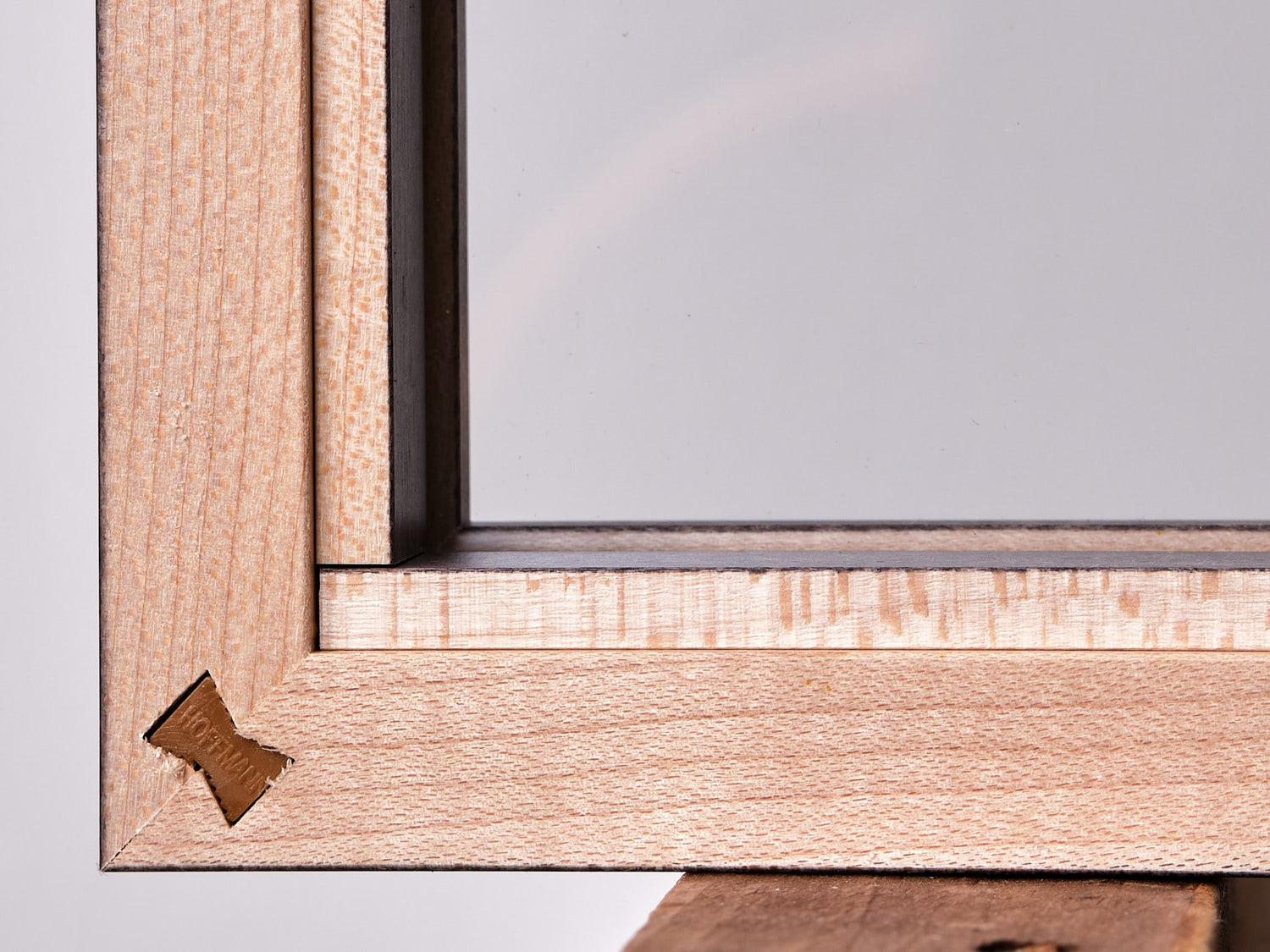 Miters
A frame's miters are the most important aspect of a frame. It allows for a seamless, fluid look, and most importantly, it allows the frame to hold the weight of your piece, which in many cases is two panes of glass, which is a non-traditional way to frame art. Two panes of glass boast a decent amount of weight, so you want to make sure your miters are glued and secured properly. Professional frame shops would use a combination of wood glue and v-nails to secure a frame's miter. Picture Woods uses a combination of wood glue and the Hoffmann Dovetail System. The dovetail is a plug that runs the width of the miter which creates superior strength for your miter versus the v-nail counterpart.
The Environment
Because of the responsible harvesting practices used for extracting North American hardwoods, the amount of trees and forests is actually increasing over time, even as demand for these products increases. That means that by buying responsibly-sourced hardwoods instead of imported ones (or dare we talk about plastic products), you're actually helping grow the biomass that helps our planet breathe. In addition to using only sustainable North American hardwoods, they contribute a portion of their profits to organizations that protect endangered forests and natural habitats for all kinds of plant and animal species throughout the world. They also directly contributed to a hardwood forest replanting program that helped restore land damaged by logging, mining, and other kinds of misuse. Their sponsorship caused thousands of seedlings to be planted and will hopefully ensure that in 80-100 years there will continue to be healthy and sustainable hardwood forests in North America.
Recycling
They have joined forces with their regional recycler and their local municipality to compost all of our raw wood waste, which has currently made them the largest compost contributor in Boulder County. This, combined with their paper, cardboard, plastic, and glass recycling, means they recycle over 85% of their discard.