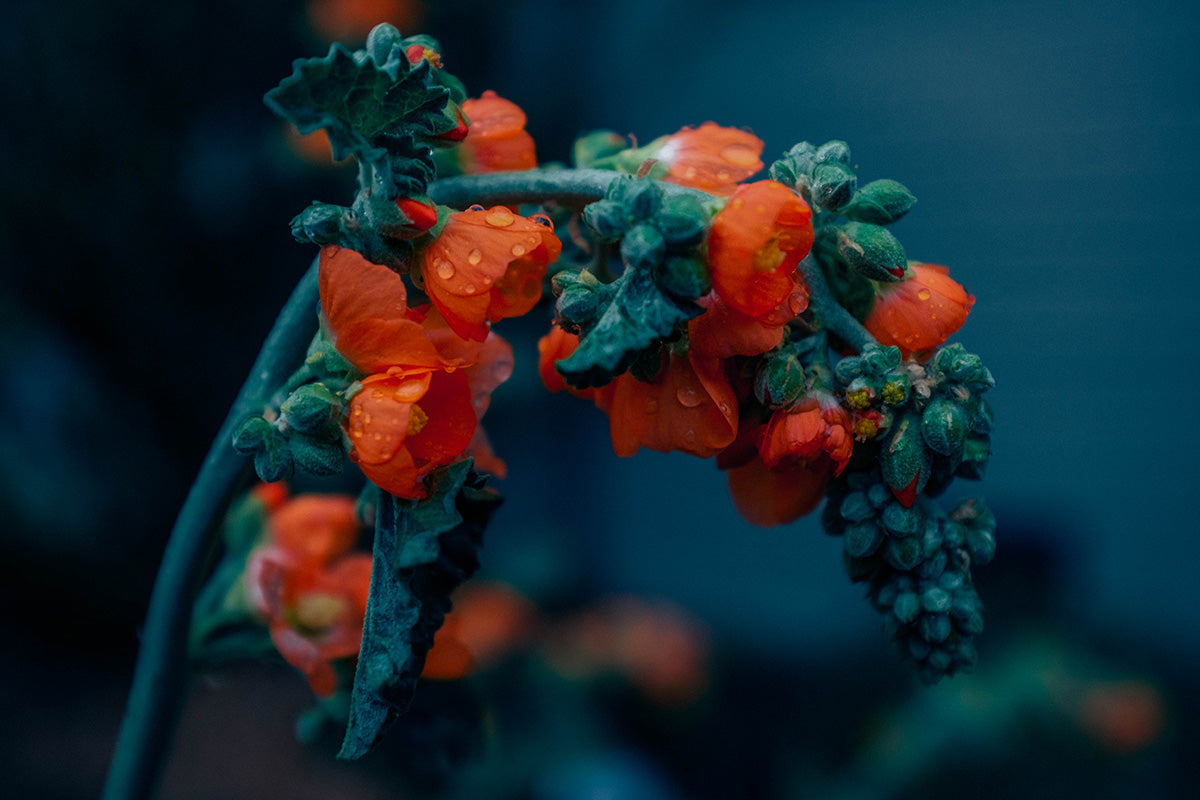 Prints
How do you capture your images for your prints?

We capture our print images using a medium format camera in natural light. We then edit in Capture One and Photoshop.
How are prints Shipped

Prints are shipped rolled up in sturdy tubes. Framed prints are packaged in a sturdy box.
Originals
Do you seal your originals with anything?

We do not. I know there is an acrylic spray or some people use hair spray to seal their pressed flower art. However, we don't love the idea of working spray cans nor do we like the idea of the added waste to the environment.

We appreciate how these pieces naturally age as the years go by. We aren't in the business of battling organic materials to try to figure out how to make them last forever. The flowers will last for decades, though their colors change. Kind of like a human body ;-).

If originals aren't your cup of tea, please check out our upcoming print releases!
Do you ever sell your originals

Yes we do! We will not have any originals to list for sale until sometime in 2024 as we are buried in commissions this year.

The best way to learn about if we ever offer originals for sale is to join our email list as we offer up our original art work for sale to our subscribers before our public offerings.

Once we work through our commissions we are going to take a breather from them for all of 2024 in order to focus on our own original art and flower pressing endeavors.
What kind of paper do you use for your originals?

We use 280-300 gsm textured, acid free water color paper or print making paper made by Arches or Reeves.
What kind of glue do we use?

For a list of the tools and materials we use please visit our resources page.
Will the Original Flowers (not prints) keep their color? PLEASE READ!!

With the appropriate care by you, pressed flowers are able to maintain their natural color for many years by hanging the art in a spot with indirect sunlight, not hanging it in bathrooms or above a fireplace, but eventually, some degree of fading is inevitable and will occur. Some varieties of pressed flowers will lose their color quicker than others. behind age, heat and sunlight are the two biggest contributors to color fading.

Some flowers fade during the pressing process while others will change a different shade of their natural hue.

Flowers are an organic matter and it is very natural for them to lose color. When purchasing an original, you should understand this, expect it, and embrace it. The essence of the flowers and design will be there for decades.

One option for those who purchase an original that want to remember the original colors is to purchase a print as well. This way you can hang them both side by side and partake in the aging process of the original as well as view the original colors for years to come.
Do you take Commissions?

We are closed for commissions thru 2024. If you are interested in an original piece, please join our mailing list as that is where you would be notified of any originals we produce and list for sale. All subscribers will be notified of any original or print release prior to the public.

Please feel free to follow us on Instagram as you will probably see works in progress throughout the year that will potentially be listed for sale.
Shipping
INCORRECT ADDRESS ENTERED UPON CHECKOUT

If you have entered the wrong address upon mistake, you will need to quickly contact us about this, so we can change the order to your correct address in our system before the shipping takes place: which means the fulfillment company begins to process and pack your order. 

There is no way for us to recall the parcel, once it's been picked up by our carrier.

Send us a message ASAP, and make sure to include your name, your order number, and the correct address you want you items shipped to.

If your order has already been shipped you will need to contact the carrier's postal service in your country, to redirect the package to your correct address.

When placing your order, please take a few moments to verify that the shipping address you have provided is correct. We cannot assume responsibility for shipping charges, additional shipping charges or replacing items that are mis-delivered because of an incorrect or undeliverable address entered at the time the order was placed.
Customs and Import Taxes

Flower Press Studio is not responsible for import taxes/duties and will not provide reimbursement for these fees. We're not involved in this process, and thus not responsible for any delays due to customs. Orders may have to be received at your local post office, if import taxes have been applied. 

When placing your order, take into consideration the possibility of import taxes.

If we receive a returned international package due to import taxes not being paid and you choose to not have your order reshipped, we will only issue store credit and depending on the size and length of time it took to return to us, you may be subject to no store credit or a restocking fee deducted from your store credit.
Can I Return My Product?
Damaged Product

All Flower Press Studio photographic prints are final sale, non-returnable and non-exchangeable. 

Please inspect your order upon reception and contact us immediately if the item is defective, damaged or if you receive the wrong item, so that we can evaluate the issue and make it right.

Any damaged photographic prints purchased through Flower Press Studio (www.flowerpressstudio.com) are eligible for replacement. We require all damaged and incorrect prints to be returned to our studio for replacement. We must receive written notification as well as photo documentation of damages within 30 days of receiving item. After 30 days, we will no longer replace an item. 


To start a return due to a damaged product, you can contact us at info@flowerpressstudio. If your return is accepted, we'll send you a return shipping label, as well as instructions on how and where to send your package. Items sent back to us without first requesting a return will not be accepted.

Please follow these criteria:-

Provide us with your order number

Provide us with your tracking number

Attach a photo/s of the damaged product

Attach a photo/s of the damaged packaging

Email the above to info@flowerpressstudio.com
Wrong Product Received

If you receive another product than the one you ordered, please:


Provide us with your order number

Provide us with your tracking number

Attach a photo of the incorrect product

Email the above to info@flowerpressstudio.com


Our fulfillment company will send you the correct item, and also include a prepaid return slip. Please attach the slip onto the box/outer packaging of your incorrect item, and hand it over to your closest pickup.
Is my Shipment lost?

If the shipment of your order seems to take its sweet time, it is usually waiting to be released for delivery at the Customs office. In the unusual case that your order seems to have been stuck in transit, please contact the carrier, as they are responsible to sort this out for you.

Shipment marked as delivered

If a parcel is marked as delivered by our carrier, we cannot file a claim.

Please take the following steps:

1) Check in with your neighbors to see if they have accepted your parcel

2) Contact the carrier to see if they still have your parcel

3) Contact your post office to see if it is still in their care 

If you suspect that a parcel has been stolen from your property, or mail box, please file a postal theft report with you local authority
Can't find what you're looking for?
Send us an email to tell us what's up and Rachel or Keith will get back to you as soon as possible. Be sure to include a detailed message.

Please email us at info@flowerpressstudio.com